"It's Ready! Go Get It!"
Announcing: The Bold New Initiative by Dr. Joe Vitale to help YOU Achieve Economic Salvation AND Stop Homelessness in America at the Same Time.
Ever wanted to REALLY make a difference?
Dr. Joe Vitale, bestselling Author of The Attractor Factor is inviting you to be a part of this ground breaking and important project.
Precisely because the concern about 'the economy' and world events is rising daily, we believe NOW is the perfect time to shift the focus to attracting what we DO want.
Operation YES was inspired by the vision to help you create your OWN economic salvation while directly helping the homeless at the same time.
It's a true win-win-win!
We're launching…NOW!
In the coming weeks we will be making this urgently needed mission public and reveal the complete details about why this is so powerful for those who join us AND for the homeless in America.
We have some truly wonderful people involved who have contributed to Operation YES, including:
Lisa Nichols
Neale Donald Walsch
Joan Sotkin
Randy Gage
Asha Tyson
Jackie Lapin
And many more…
If you would like to find out more about Operation YES and be part of this awesome movement, just enter your name and email address in the form above.
This quote captures the spirit of Operation Yes…

"Never doubt that a small group of committed citizens can change the world. Indeed, it is the only thing that ever has." - Margaret Mead

And this quote too…

"Every noble act was at first impossible." - Thomas Carlyle
Note: you will receive an email requesting confirmation shortly. You will be added to the notification list once you click the link in that email.
Dr. Joe Vitale
www.MrFire.com
Member BBB 2003-
PS - For more information about Miracles Coaching®, please see http://www.MiraclesCoaching.com
Tell a friend and share this great site with others.
Dr. Joe Vitale, a star in the hit movie "The Secret," bestselling author of The Attractor Factor and Zero Limits, television guest star on Larry King Live and CNN, ABC, FOX, etc., is the world's first self-help singer songwriter.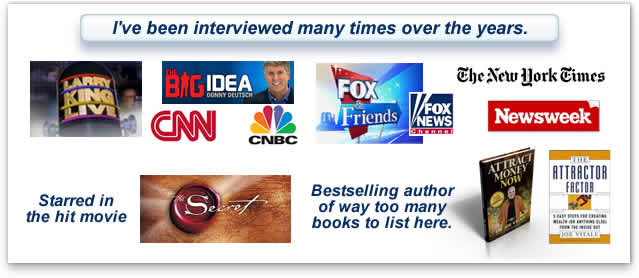 Media and Performance Requests Contact:
Email Joe's booking agent: Caroline@MrFire.com
or call 888-743-2824 opt 3
Services are provided by Acheive Today, Inc., which has been selected by Joe Vitale to provide education and guidance throughout your program.
© Copyright 2000 - Hypnotic Marketing, Inc., (All rights reserved)
Hypnotic Marketing, Inc., P.O. Box 2924 Wimberley, TX 78676-2924 - (888) 743-2824
Legal Disclaimer - Privacy Policy - Terms of Service

Customer Service: The Hypnotic Marketing Customer Care Center.
Give us a call at (888) 743-2824 option 2 or send us an email at Support@MrFire.com